News story
Transport Secretary visits Dawlish in south-west
Patrick McLoughlin visited Dawlish today (7 February 2014) to see for himself the impact of recent bad weather on the rail network.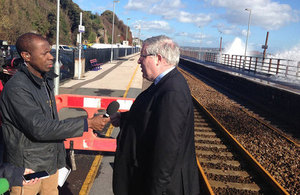 Following work with transport providers operating in the south-west the Transport Secretary was able confirm additional flights and cheaper train fares, steps that will help keep people moving in the region.
Speaking after his visit to Dawlish and his meeting at Plymouth City Council with MPs, councils, and business representatives, Patrick McLoughlin said:
The most immediate concern is to get the line at Dawlish back up and running as soon as possible. I have seen the site first hand and discussed with Network Rail how this work will get underway. Dealing with the impact of the storms is difficult and dangerous work and I am grateful to the people working to keep our roads and railways clear, to the emergency services and volunteers.

I also met with south-west MPs, councils and business leaders to assess the impact of the severe weather on the region's transport networks and economy. As well as tackling the current problems and getting cheaper train fares for passengers to reflect the disruption to services, I have said that I want to look at the longer term resilience of the south-west's rail links and I have commissioned a report to do just that.

In the meantime, with replacement bus and coach services running, trains operating on local branch lines, and increased capacity in flights from Newquay, it's important for the region's economy that people understand the south-west is open for business.
The Transport Secretary today (7 Febuary 2014) announced that, as a result of discussions, Flybe is more than doubling the number of flights available on the air route between Newquay and London Gatwick.
Flybe will increase the number of flights from 3 to 6 per weekday which will provide over 4,500 additional extra seats per week.
This additional capacity will help alleviate some of the pressures on existing overland routes and maintain this vital connection for business and leisure travellers.
In addition, rail operator First Great Western (FGW) has put in place special ticketing arrangements so that rail passengers who are affected by flood disruption do not miss out on cheaper advance fares while revised timetables are put in place.
This means that passengers will receive a 25% discount on walk-up fares for journeys that cross the Dawlish gap.
FGW has confirmed it will be offering discounted fares to customers travelling on its services affected by the closure of the railway at Dawlish.
FGW has ordered hundreds of buses to provide alternative transport between the two cities while the track is repaired.
Volunteers from other areas of the business, who have been supporting FGW's efforts to keep customers moving in the area, are expected to be joined by colleagues from other FirstGroup rail companies throughout the UK over the weekend.
A 25% discount will apply to all walk-up fares - including Any time, Off-Peak and Super Off-Peak tickets - for journeys that pass through the affected area and will remain in place until the line reopens.
Advance Purchase fares will also be reintroduced on the route for combined bus and rail fares from Wednesday next week (12 February 2014). The company has been unable to offer Advance Purchase tickets – which are tied to specific trains - since Wednesday, as they were unable to guarantee which trains would be running.
Find out what else the government is doing to support and grow the UK economy
First Great Western Managing Director, Mark Hopwood said:
We recognise that this work will mean customers are inconvenienced and journey times are likely to take longer than normal as we look at alternative ways of getting customers to where they need to go. We want our prices to reflect that.

No-one should lose out because of this. FGW's promise is that anyone who has been unable to purchase an Advance Purchase ticket because they were removed from the system and paid more than they would have done normally, will be reimbursed the difference.
Rail media enquiries
Press enquiries 020 7944 3021
Out of hours 020 7944 4292
Switchboard 0300 330 3000
Published 7 February 2014