Press release
Transport for everyone
Putting accessibility and equality front and centre when delivering services for the travelling public.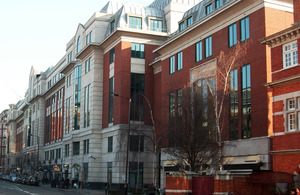 Transport Minister Norman Baker is calling on operators and local authorities to work with government to put accessibility and equality front and centre when delivering services for the travelling public.
To help them to do this, the Department for Transport has published 2 action plans which set out priorities, as well as highlighting areas where action is in the pipeline or already underway.
'Transport for everyone' outlines how operators, local councils and the department can help to make it easier for people using public transport – particularly those with disabilities - to get to where they need to go.
This action plan builds on the success achieved in improving accessibility on public transport during the Olympics and Paralympics. At the heart of the plan is the importance of improving door-to-door journeys rather than addressing issues in isolation.
The department's equality action plan looks at how we can encourage a more inclusive transport network and underlines the importance of ensuring that policy makers at all levels are alive to the particular needs and concerns of different groups in society.
These include affordability issues for young people and pensioners and the ability for all people to travel in safety and free from harassment.
Transport Minister Norman Baker said:
A good transport system allows people to access jobs, opportunities and vital services - it needs to work for everyone.

We recognise the concerns that specific groups of people have about public transport and so we have pulled together ideas from across the transport sector on how these concerns can be tackled.

The action plans will help policy makers, as well as transport operators, to tackle problems head on and - more importantly - to level the playing field for everyone.
Liz Sayce OBE, Disability Rights UK Chief Executive, said:
An accessible transport infrastructure is essential for what Disability Rights UK wants to achieve – disabled people playing a full and equal part in society. Over the past 20 years we have come a long way as our practical guide 'Doing transport differently' shows but there are still too many attitudinal, communication and physical barriers facing disabled people.

The 'Action plan' is a step change towards making further progress. We welcome the commitment that the Department for Transport will continue to work in partnership with disabled people and our organisations to ensure the most effective steps are taken.

The 'Accessibility action plan' builds on the transport successes of the Olympic and Paralympic Games and aims to create a long lasting legacy of improved access and information.
During the Olympic and Paralympic Games, public transport operators carried thousands of spectators with disabilities and work was done to ensure that the travelling public had easy access to information. One of the aims of the 'Accessibility action plan' will be to build on the Games Spectator Journey Planner.
The new planner would cover a wider geographical area and more types of transport as well as being made accessible to people with visual impairments.
Other measures outlined in the plan include:
considering where £100 million of extra funding might be best spent in the long term to improve accessibility of railway stations
possible further amendments to the Blue Badge scheme to tackle abuse and fraud in this area
building on guidance for mobility scooters and powered wheelchairs to encourage training for those using this equipment
The 'Equality action plan' sets out in one place what the department is doing to ensure people from all parts of society have the option to use public transport.
Points addressed in the plan include:
accessibility to public transport for young people, older people and those living in rural areas
safety and personal security for women travellers, particularly at night
tackling hate crime and bullying on buses and other public transport
promoting employment of under-represented groups within the transport industry
Both documents include lists of issues and the actions that have been, or will be, taken to address them.
Notes to editors
The 'Accessibility action plan'
In the interests of transparency and to enable as many people as possible to have their say, the 'Equality action plan' will be open for comment until 15 February. These will feed in to a final version of the document which will be published in due course.
Media enquiries
Media enquiries: Newsdesk (Monday to Friday, 8am to 7pm)
020 7944 3021

Urgent media enquiries out of hours
020 7944 4292

The Department for Transport press office only deals with enquiries from the media.

If you're not a member of the media, please use the switchboard line
0300 330 3000
Published 13 December 2012