Press release
Transparency in the NHS: Good for patients, good for doctors
Health Secretary Andrew Lansley announces 11 new areas of medicine whose outcomes for patients will be audited, monitored and regularly published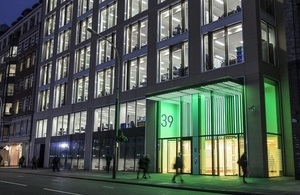 Speaking to the Royal College of General Practitioners on Saturday morning, Health Secretary Andrew Lansley announced 11 new areas of medicine whose outcomes for patients will be audited, monitored and regularly published in future.
This brings to 40 the total number of areas of medicine involved in National Clinical Audits. They will measure a variety of different indicators, depending on the clinical area involved, such as mortality, patient's own feedback, and hospitals' success in making sure patients get the right treatment quickly.
The publication of clinical audit data is a key element of the Department of Health's commitment to greater transparency in Government and the public sector.
Addressing the audience of GPs, Andrew Lansley said:
"Today, as part of our commitment to an open NHS, I can announce an extension of our plans to audit outcomes across a range of different clinical areas. Better data means better quality in the NHS - for patients, for their specialist clinicians, and crucially for you - both as their GPs and as the future commissioners of those services.
"It means patients can make better informed choices. It means specialists can compare themselves with the best and learn the lessons. And it means you can commission services from specialists who have learned those lessons.
"For example, COPD will be one of the first new audits to be commissioned - before the end of this year. This is a huge piece of work which will serve a large number of patients whose care straddles the primary, secondary and tertiary divide.
"If we can get it right for those patients, we can, with your help, also get it right for millions of others.
"This information, along with NHS provider staff satisfaction data – taken from the NHS Staff Survey – will help providers to drive up quality and help you and your patients to make the best decisions about their care.
"And it will help General Practice to improve. So I'd like to thank the RCGP for leading the on-going work to publish comparative data on the provision of services by GP Practices, due from December."
The first two of the new audits - COPD and emergency laparotomy - will be commissioned before the end of 2011. Subsequent audits will be commissioned two at a time in the following months until all forty are underway. Results will be published from 2013 and on a regular basis thereafter.
The 11 new clinical areas selected for clinical audit are:
Chronic Obstructive Pulmonary Disease
Emergency Laparotomy
The National Vascular Registry
Prostate Cancer
Healthcare for individuals with learning difficulties
Specialist rehabilitation for patients with complex needs
Chronic kidney disease in primary care
Ophthalmology
Breast cancer
Rheumatoid and early inflammatory arthritis
Healthcare for individuals with sexually transmitted diseases and HIV
Notes to Editors
Professionals working in all areas of health care were invited to propose topics that in their opinion would benefit from the development of a national clinical audit to help drive quality improvement in that area. A total of 39 proposals were received from a range of individuals and professional groups and the proposals were evaluated by the National Clinical Audit Advisory Group (NCAAG) against explicit criteria. The proposals were of unprecedented quality, which was felt to be representative of the increasing interest and engagement with clinical audit nationally. Eleven of the 39 proposals were selected by the Department of Health for future procurement by the Healthcare Quality Improvement Partnership (HQIP).

For further information please contact the Department of Health Media Centre on 0207 210 5221.
Published 24 October 2011