Press release
Traineeships programme helping many into apprenticeships and jobs
New report reveals high satisfaction rate, with majority of young people, employers and providers happy with quality of traineeships.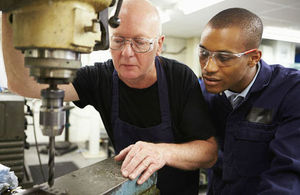 The majority of young people taking part in the government's traineeship programme have gone on to apprenticeships, employment or further learning, according to a new report published today (11 March 2015).
Outcomes of an initial evaluation of the first year of the traineeship programme, carried out by the government, found that 50% of trainees went on to apprenticeships or employment, and a further 17% undertook further learning.
The report also highlights high levels of satisfaction in the programme among employers and trainees:
84% of providers and 94% of employers consider traineeships an effective way of increasing young people's chances of finding paid jobs and apprenticeships

the majority of trainees (82%) said that the traineeship at least matched their expectations, with over half (54%) saying it exceeded their expectations

4 in 5 trainees (80%) said that the support they received during their work preparation training had helped to improve their job search
The government's traineeship programme began in August 2013, with the aim of giving young people high-quality work experience and training to help them into an apprenticeship or employment.
More than 10,000 young people took up a traineeship in the first year of the programme, with a further 5,000 starting a traineeship in the first 3 months of the second year.
Today's traineeships evaluation - which comes in National Apprenticeships Week - provides early insights on the implementation of the traineeship programme since its introduction and reports initial outcomes for trainees. A full impact assessment of traineeships will be undertaken over the next 2 years.
Skills Minister Nick Boles said:
Our plan for education is ensuring young people have the skills and knowledge to succeed in modern Britain, and traineeships are playing a vital role in this.

We owe it to young people to ensure these traineeships are of the highest quality, which is why I'm delighted to see so many progressing to apprenticeships, employment or further learning.

While the signs at this early stage in the traineeship programme are very encouraging, we are determined to continue raising the quantity and quality of traineeships, ensuring more young people have the best possible start in life.
Les Ratcliffe, Head of Community Relations at Jaguar Land Rover, explained:
It made sense for a responsible business like Jaguar Land Rover to use its success for good and we developed a programme to engage and inspire those who may feel they have no employment prospects.
Notes to editors
DfE enquiries
Central newsdesk 020 7783 8300
General enquiries 0370 000 2288
Published 11 March 2015