World news story
Trade mission from West Midlands visited the Baltic States
Five companies from West Midlands visited Latvia, Lithuania and Estonia from 10 to 14 June 2013.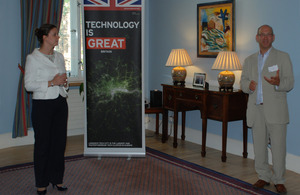 UKTI Baltics has a long term relationship with Coventry and Warwickshire Chamber of Commerce (CWCC) representing UKTI in West Midlands. There have been several trade missions to Latvia, Lithuania and Estonia organized by Mick Page, Head of International Trade Team, Coventry & Warwickshire, UKTI West Midlands.
This year UKTI Baltics received a multi-sector trade mission representing the following sectors: agricultural machinery, pharmaceuticals, IT solutions for healthcare sector, consultancy and warehousing services.
UKTI teams in Riga, Vilnius and Tallinn organized individual meeting programmes with the local potential partners for the majority of the mission delegates. There was also a briefing and an evening networking reception at the British Ambassador's residence in each of the Baltic capitals.
For more information on the British companies participating at the CWCC Trade Mission, please, see their websites:
Published 17 June 2013