Trade in so-called 'legal highs' now illegal
Psychoactive Substances Act comes into force today.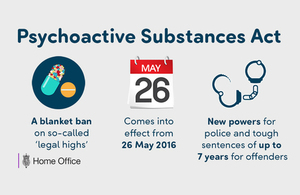 Unscrupulous dealers in psychoactive substances face up to 7 years in prison as the trade becomes illegal today (Thursday 26 May).
The blanket ban on the sale, supply, importation and exportation of the dangerous drugs will apply across the UK whenever they are intended for human consumption.
Police will have new powers to shut down 'headshops' and UK-based online dealers, helping to protect potential users from harm and communities from anti-social behaviour.
Minister for Preventing Abuse, Exploitation and Crime Karen Bradley said:
Too many lives have been lost or ruined by the dangerous drugs formerly referred to as 'legal highs'. That is why we have taken action to stamp out this brazen trade.

The Psychoactive Substances Act sends a clear message – these drugs are not legal, they are not safe and we will not allow them to be sold in this country.
Those involved in the supply, production, possession with intent to supply and importation or exportation of a psychoactive substance now face a prison sentence of up to 7 years.
Police will also be able to deploy new civil sanctions including prohibition and premise notices to allow them to shut down 'headshops' and UK-based online dealers, with up to 2 years in prison for those who fail to comply.
Our jails will also be safer with penalties of up to 2 years in prison for possessing a psychoactive substance in a custodial institution.
A world-leading testing programme to determine whether a substance is capable of having a psychoactive effect will help provide evidence to support enforcement action.
Legislation alone is not the silver bullet, and alongside the Psychoactive Substances Act we continue to take action across education, prevention, treatment and recovery in order to reduce harmful drug use. This includes:
providing tools and information for those in the education sector to engage with young people to tackle the use of psychoactive substances
working with local areas to help them prevent and respond to the use of psychoactive substances
highlighting the risk of these substances to around 50 music festivals
publishing clinical guidelines to aid in the detection, assessment and management of users
Published 26 May 2016