Press release
Top NHS and university alliances recognised by Department of Health
Six partnerships of England's leading NHS Trusts and universities have been designated as Academic Health Science Centres.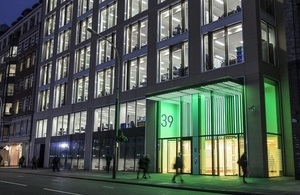 The Department of Health has designated the Academic Health Science Centres (AHSCs) for the next five years, which will work to research new treatments and improve health education and patient care, Health Minister Lord Howe announced today.
From April 2014, the six NHS and university partnerships will draw on their world-class research and health education to improve patient care and healthcare delivery. They will bring scientific discoveries from the lab to the ward, operating theatre and general practice, so patients benefit from innovative new treatments.
The centres, which were recommended for designation by a panel of international experts, also drive economic growth through their partnerships with industry, including life sciences companies. Five of the AHSCs already hold the title and are now being designated again for a further five years. Oxford Academic Health Science Centre is a new addition to the list from April 2014.
Health Minister Lord Howe said:
When the NHS and universities come together they can achieve great things. These six partnerships are among the world leaders in health research, health education, and patient care and working with industry to promote economic growth.

I am delighted that international experts have recommended them as centres of excellence and am confident that this step will ensure that England continues to be at the forefront of medical research and treatment.
The six NHS/university partnerships which have been designated by the Department of Health as AHSCs are:
Cambridge University Health Partners Academic Health Science Centre
Imperial College Academic Health Science Centre
King's Health Partners Academic Health Science Centre
Manchester Academic Health Science Centre
Oxford Academic Health Science Centre
University College London Partners Academic Health Science Centre
The five partnerships from Cambridge, Imperial, King's, Manchester, and University College London had all previously received AHSC designation in the first Department of Health competition in 2009. The new designation of six AHSCs reflects England's reputation as a world-leader in health research and health education, and the Government's ambition to make the NHS the very best in research and health care. In all cases, the successful NHS and university partnerships draw on considerable government investment in health research.
Background information
For more information, contact the Department of Health press office on 0207 210 5477.
Published 29 November 2013