Top industry figures launch plans to free up self-builders
First meeting of the self-build working group.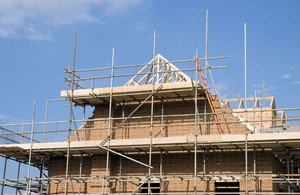 Ministers have met with self build industry leaders to launch a powerful new group to advise them on how to cut the red tape and regulations that are stopping aspiring self-builders from realising their ambitions.
Since Grant Shapps called on the country's aspiring self-builders to make a housebuilding revolution their New Year's resolution last month, the National Self-Build Association has been working with his officials to set up the group whose task it will be to develop an action plan to tackle the main barriers to the growth of self-build housing - such as availability of land, finance and expert support for people new to the industry.
Today's meeting with Housing Minister Grant Shapps and Communities Minister Andrew Stunell will see the first meeting of the working group to begin to work through these issues, and agreeing concrete steps to try and increase the number of self-builds up and down the country.
Self-builders are already Britain's largest housebuilder, and account for about one-fifth of Britain's new homes each year, but for far too long the aspirations of ordinary people to build their own home have been thwarted by barriers and red tape.
These obstacles have led to the UK having one of the lowest proportions of new homes built by self-builders in Europe. The government has pledged to end self-building as the preserve of the privileged few, and enable aspiring self-builders to put building their own home at the top of their New Year's resolutions.
Grant Shapps said:
"Self-builders already make a big contribution to new homes built in this country each year - yet we still lag behind most of Europe. I want to turn around the fortunes of self-builders by cutting the red tape and bureaucracy they often face.
"That's why I'm delighted that the National Association of Self-Builders has agreed to work with my officials to identify the barriers that aspiring self-builders often face, and to let us in Whitehall know what we can do to make it easier to help people achieve their dream of building their own home.
"I have been encouraged by the progress they are making in developing an all-important action plan, which will sit alongside the efforts we are already making through the Localism Bill to put power in the hands of communities up and down the country, enabling them to give the green light to new developments through the Community Right to Build, and simplifying the overly-bureaucratic planning system."
Andrew Stunell said:
"Self build housing forms an important part of the government's strong commitment to increasing supply of affordable and sustainable homes. Self build initiatives are both good for communities and the environment. They can help to regenerate abandoned urban sites, and ensure that countryside communities remain vibrant places to live and not museums.
"And because of the value for money that can be achieved, self-builders can have more choice to include energy saving green products, such as solar panels or super-insulation. And by the very nature of being a self builder there are greater chances to look at new innovations which can save money in the long term."
Ted Stevens, chair of the National Self-Build Association (NaSBA), said:
"Most people think building your own home is very expensive. They see many of the fancy homes featured on Grand Designs and think that's what it's all about. In fact the vast majority of self build homes cost less than £150,000 to construct - and for that you can comfortably build an attractive, energy-efficient, custom-designed 3 or 4 bedroom home.
"We believe the actions taken by this new self build group could potentially make it much easier for people to build thousands of new, affordable homes each year. Our aim is to ensure that the new industry-government group will not be a 'talking shop'; instead we want to see it work as more of a 'launching platform' by removing the barriers over land availability and finance that are currently holding back the industry's development."
The working group consists of:
Ted Stevens - chair of the National Self-build Association (NaSBA)
Jackson Moulding - Director of Ecomotive
Raymond Connor - CEO of Buildstore
Tom Willcocks - Policy and Strategy Manager at the Homes and Communities Agency
Stephen Hill - RICS member director of C20 futureplanners
Nic Bliss - chair of the Confederation of Co-operative Housing
Roger Humber - Strategic Policy Adviser to the House Builders Association
Paul Broadhead - Head of mortgage policy at the Building Societies Association
John Gillespie - National Development Director of the Community Self-build Agency
Barry Sutcliffe - Self-builder
Published 2 February 2011