Tonga to become the 48th country to contribute to the International Security Assistance Force in Afghanistan.
Foreign Office Minister Jeremy Browne met Commander of Tonga Defence Services Brigadier Uta'atu, who was visiting the UK to sign a UK/Tongan Memorandum of Understanding (MOU).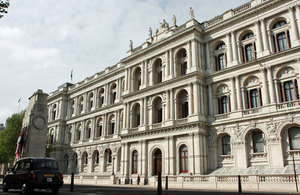 The Memorandum of Understanding (MOU) was the final step for 55 Tongan troops to be deployed in Afghanistan to serve alongside the UK Armed Services. Tonga will become the 48th country contributing to the ISAF mission. Tongan troops have a strong history of making a contribution on the international stage, including previous deployments of Tongan Armed Forces on peace support operations in the Solomon Islands and Iraq.
During the meeting with Brigadier Uta'atu Minister Jeremy Browne expressed the UK's appreciation for past contributions made by the Tongan Armed Services and for their forthcoming deployment to Afghanistan. He noted the significant nature of the deployment, given the overall Tongan population of just under 123,000 people. The Minister was keen to stress the importance of the Tongan role and thanked Brigadier Uta'atu for the active role he personally played in making the deployment a reality.
Published 7 October 2010