News story
Tobacco displays in shops to end from today
New legislation comes into effect today to protect children from being the target of tobacco promotion and to help people quit smoking. All…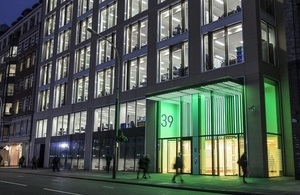 New legislation comes into effect today to protect children from being the target of tobacco promotion and to help people quit smoking.
All large shops and supermarkets in England now need to cover up cigarettes and hide tobacco products from public view.
Evidence shows that cigarette displays in shops can encourage young people to start smoking. The figures for England show that:
5% of children aged 11-15 are regular smokers
more than 300,000 children under 16 try smoking each year
39% of smokers say that they were smoking regularly before the age of 16
Covering tobacco displays will protect children and young people from the promotion of tobacco products in shops, helping them to resist the temptation to start smoking. It will also help and support adults who are trying to quit.
Health Minister Anne Milton said:
"We cannot ignore the fact that young people are recruited into smoking by colourful, eye-catching, cigarette displays. Most adult smokers started smoking as teenagers and we need to stop this trend.

"Banning displays of cigarettes and tobacco will help young people resist the pressure to start smoking and help the thousands of adults in England who are currently trying to quit."
More than 8 million people in England still smoke - it is one of biggest preventable killers causing more than 80,000 deaths each year. Nearly two-thirds of current and ex-smokers say they started smoking before they were 18.
Healthy Lives, Healthy People: A Tobacco Control Plan for England sets out how tobacco control will be delivered in the context of the new public health system, focusing in particular on the action that the Government will take nationally to drive down the prevalence of smoking and to support comprehensive tobacco control in local areas.
Cigarettes and all tobacco products will need to be out of sight except when staff are serving customers or carrying out other day-to-day tasks such as restocking.  Those responsible in shops not complying with the law could be fined up to £5,000 or could face imprisonment.
Guidance for retailers
The tobacco display provisions in the Health Act 2009 and related regulations affect all large shops. For all other shops and businesses selling tobacco to the public, the regulations will be implemented from April 2015.
A factsheet and guidance for retailers and local trading standards authorities has been written by the Local Government Regulatory Support Unit with the Department of Health and in consultation with the British Retail Consortium and the Association of Convenience Stores.  The guidance is available on Businesslink.
Published 6 April 2012