Tim Loughton writes to 'The Guardian' about school playing fields
Tim Loughton writes to 'The Guardian' on 9 August 2012 in response to an article about the sale of school playing fields.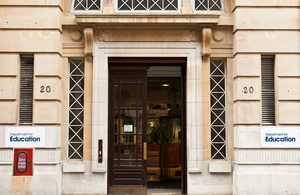 Dear Sir
Your article on Monday regarding the sale of school sports fields omitted key facts.
Out of the 21 playing fields which you report have been sold since May 2010, 14 belonged to schools that had closed and 4 were sites that became surplus from school mergers. Of the other 3, one was surplus land to existing playing fields that was turned into sports facilities (with proceeds invested in the school sports changing facilities); one was leased to a company to turn an under-used playing field with poor drainage into all-weather playing surfaces, a full-sized football and hockey pitch and a 6-court indoor tennis facility; and a further sports field was due to be leased to an athletics club to improve sporting provision for the club and the school.
We are absolutely clear that we will only agree to the sale of school playing fields if the sports and curriculum needs of schools and their neighbouring schools can continue to be met. Sale proceeds must be used to improve sports or education facilities and any new sports facilities must be sustainable for at least 10 years. All sites disposed of under this government have either been because the school has closed, the sites became surplus from schools merging or the proceeds were needed to modernise sports provision. It was disingenuous to suggest otherwise.
This contrasts with the previous government which sold off 212 playing fields between 1999 and 2009.
We want competitive sport to be at the centre of a truly rounded education that all schools offer. This is why we are implementing plans for a new PE curriculum to provide stronger structures.
Yours faithfully
Tim Loughton MP Parliamentary Under Secretary of State for Children and Families
Published 9 August 2012