This week on the Foreign Office Global Conversations blog
Libya, London 2012 Olympics and Afghanistan were amongst the topics discussed by Foreign Office bloggers this week.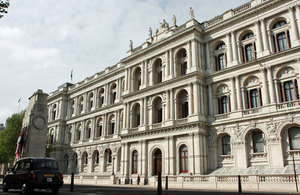 Minister for the Middle East Alistair Burt recorded a video blog that focussed on first hand accounts from Libya's Western mountains. He said, "Speaking to ordinary Libyans living through these extraordinary times is always a powerful reminder of why the international community is acting to protect the Libyan people from the Qadhafi regime."
Tribute FM, a radio station broadcasting over Benghazi, was the topic of Foreign Office Political Officer David Clay's latest blog post. David explained how the station, "has been set up by a group of young enthusiastic Libyans, some born and bred in Libya, and others who have returned home for the first time after many years in the UK or Canada."
The Governor of the British Virgin Islands (BVI) invited Stacy Mather from the islands YEP (Youth Empowerment Project) to write a guest blog.
Marking World Refugee Day last Monday, Ambassador to Lebanon Frances Guy reflected on refugee issues. She observed that, "Today's reality is that 80 % of all refugees are in developing countries. I have seen many large sprawling refugee camps in East Africa. My first encounter with such misery was with Eritrean refugees in Sudan. Most of them returned home after the overthrow of Mengistu and the subsequent independence of Eritrea. Their misery in the burning heat of Eastern Sudan was complete, and some of them had survived in desperate conditions for more than 20 years. But they did go home."
The London 2012 Olympics was the theme of a blog post from Ambassador to the Philippines, Stephen Lillie. In a speech at the British School in Manila, he reflected his "hope that London 2012 will be the games when the Philippines wins its first ever Olympic Gold medal."
Michael O'Neill, the The Team Head of the Provincial Reconstruction Team based in Lashkar Gah in Afghanistan, wrote a blog about 'Building Helmand's future'. He noted that, "It's a time of change in Helmand. Next month the capital Lashkar Gah begins transition to full Afghan control - with six other Provinces and Districts, home to a quarter of Afghanistan's population."
Published 25 June 2011