This week on the Foreign Office Global Conversations blog
Egypt, Libya and Bosnia and Herzegovina were amongst the topics discussed by Foreign Office bloggers this week.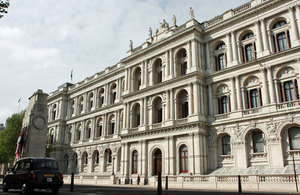 Minister for Europe, David Lidington posted a video blog about his first visit to Sarajevo. He stressed:
"We want to see Bosnia and Herzegovina become a full member of the EU and NATO, and I urged all parties to demonstrate the leadership and compromise that is needed if the country is to realise its aspirations."
Visiting Darfur, Ambassador to Sudan Nicholas Kay said:"significant UK Aid is going to projects that are (a) implemented in close partnership with the government and (b) address long term development needs. The UK is funding a major urban water supply project, which will provide water for 1.1 million people in El Fasher, Nyala, El Jeneina and Zalingei."
New blogger Michael Aron, British Ambassador to Iraq focussed on education in his first blog post:
"I also know that like so many other aspects of life in Iraq, education has suffered years of mismanagement, corruption, sanctions and war; taking some of the shine away from this precious national treasure. But the damage is reversible. It's clear that there is tremendous appetite among Iraqis of all political shades to return their country to its position as an intellectual leader in the Middle East, and re-invigorate the human capital that will propel Iraq forward into a new era of economic recovery and growth."
Based in Benghazi, political officer David Clay talked about 'Misrata "the steadfast" observing that "Misrata's liberation has, of course, been pivotal, militarily and emotionally - for all of those involved in trying to stop Qadhafi's campaign of suppression. It's also been personal: a friend from Benghazi tells me that a third of Benghazi residents and half of Derna's population have roots in Misrata"
In Cairo Deputy Ambassador to Egypt, Thom Reilly took stock of the last few tumultuous months in Egypt observing that "watching the 25 January protest and wondering whether it would maintain its momentum; then came the momentous 28 January, the selfless bravery of the youth facing down the bullets and tear gas and refusing to be turned aside from their dreams; and the Tweet I received on my computer at work at 1745 (I still don't know how since the internet was down): "The Police are gone; the Square is ours".
To coincide with Internet Week in New York, Deputy Consul-General, Dominic Meiklejohn hosted a guest blog from Tony Hughes, Director, Focus Innovation and UKTI's digital industries sector specialist.
He noted that "The UK and London in particular is at the heart of Europe's Digital and Creative sectors. The strategic partners and clients that US companies crave can all be found there, along with other global companies with routes to markets further afield. Ever since the first dot com surge the best and brightest of the internet community have tended to cluster around certain areas. In the UK and London, one of those hotspots is what is now being called Techcity."
Published 10 June 2011