This week on the Foreign Office Global Conversations blog
Somalia, Libya and International Day Against Homophobia and Transphobia were amongst the topics discussed by Foreign Office bloggers.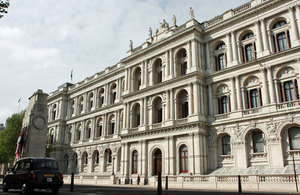 UK Ambassadors and Foreign Office staff marked International Day Against Homophobia and Transphobia, giving perspectives from Japan, Hungary, Philippines, Lebanon and the Netherlands. Media and Communication Director Tom Burn, Tokyo, noted in his blog post that, "The British Foreign Office is proud of its regular appearance on Stonewall's workplace equality index, an annual list of the best employers in the UK to work for as a gay person"
We also hosted two guest blogs from Pride London and Gay Middle East, two NGOs that work to raise awareness of discrimination and the issues and difficulties affecting the lives of LGBT people around the world.
Digital Communications Manager Amelia Bate reflected on the FCO's human rights reporting, sharing the motivations for publishing the latest annual report online and discussing some of the experiences of doing so.
Foreign Office Political Officer David Clay talked about his deployment to Benghazi in a blog titled 'Preparing for deployment to Benghazi'. David's blog succeeds Barrie Peach whose deployment was a month long and he has now returned to his normal duties in Algiers.
The UK's Senior Representative for Somalia Matt Baugh introduced himself in his first blog post. He noted his hope "that going online will enable me to meet and discuss relevant issues with a wide range of other people interested in Somalia"
UK Ambassador to the Netherlands Paul Arkwright and Irish Ambassador Mary Whelan published a joint blog on the occasion of Queen Elizabeth II's visit to the Republic of Ireland.
John L Smith, Head of Climate Change Team at our High Commission in Pretoria, published a blog asking 'What should South Africa read into UK's latest climate promise?'

Published 20 May 2011