This week at the Foreign Office
A look at the work of the Foreign Office and its embassies overseas this week.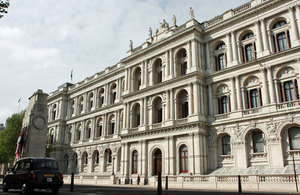 Foreign Secretary William Hague gave a speech on diplomatic tradecraft at the British Academy on 17 October, saying that the UK's diplomatic network "is the essential infrastructure of Britain's influence in the world".
Baroness Warsi reiterated UK commitment to Afghanistan at the first meeting of the Afghanistan-UK Joint Commission in Kabul on 16 October with Deputy Foreign Minister Ludin.
At the Foreign Affairs Council in Luxembourg on 15 October, the EU agreed a further substantial package of sanctions on Iran. The Foreign Secretary urged Iran not to underestimate EU's resolve, saying "We will continue to do all we can to increase the peaceful pressure on Iran to change course and to return to talks ready to reach a negotiated solution by addressing the world's concerns. We want a negotiated solution, but Iran must show that it is willing to address our concerns".
Meeting Minister of Foreign and European Affairs of the Republic of Croatia Vesna Pusi? on 17 October, Foreign Secretary William Hague welcomed Croatia's progress towards EU accession, saying it "offers an unparalleled opportunity for both countries to forge stronger links between our governments, businesses and people."
Foreign Secretary William Hague visited Bletchley Park on 18 October, launching a new drive to find and nurture the next generation of code-breakers and computer scientists.
The Foreign Office has published new reporting on 28 Countries of Concern, along with updates on the case study countries featured in the annual human rights report.
In a speech to Parliamentarians on 16 October, Foreign Secretary William Hague condemned human trafficking and called for greater international cooperation to tackle the problem.
Foreign Office Minister Alistair Burt has condemned Israel's plans to expand the illegal settlement of Gilo on the southern flank of East Jerusalem and urged the Israeli Government to change its approach.
The UK Government has launched a new environment and climate fund for the UK's Overseas Territories.
Consular Crisis Centre launched
On 16 October, the Foreign Secretary launched the new FCO Crisis Centre, which will provide one of the most complete and advanced consular services in the world.
The fourteenth Hajj Consular Delegation to accompany British pilgrims to Saudi Arabia was launched on 19 October by Foreign Office Minister Mark Simmonds.
Also this week:
Published 19 October 2012