This week at the Foreign Office
A look at the work of the Foreign Office and its embassies overseas this week.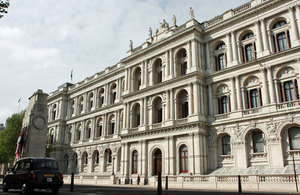 10th anniversary of the Bali bombings
Foreign Office Minister Hugo Swire lay a commemorative wreath in a ceremony to remember the victims of the 2002 Bali bombings.
Minister Swire said:
"The bombers hoped to spread terror - and indeed they did. But the legacy of those crimes is not terror. The legacy is the stories of bravery about those who compromised their own safety to help rescue the injured.
"It is the solidarity of people and governments all around the world - of different races, religions and political beliefs - who deplored the attacks and all they stood for, and who mark this sombre anniversary today."
Bahrain
Foreign Secretary William Hague met with the Crown Prince of Bahrain in London on 11 October and urged more progress on an inclusive political dialogue.
The Foreign Secretary said:
"We had an open and honest exchange about political reform in Bahrain, which confirmed to me the Crown Prince's personal commitment to an inclusive political dialogue. I welcomed the recent commitments made by Government of Bahrain last month at the Human Rights Council, in particular to consider ratifying the Optional Protocol to the Convention Against Torture, and encourage them to take this forward as soon as possible."
Malala Yousufzai
On 10 October, Foreign Office Minister Baroness Warsi has condemned the attack on Malala Yousufzai in Pakistan, saying:
"I utterly condemn the cowardly attack on Malala Yousufzai and her school friends in Swat, Pakistan. Through her inspirational activism Malala has bravely highlighted the need for education to be accessible to all children in Pakistan."
World Day Against the Death Penalty
The FCO marked the ninth anniversary of the World Day Against the Death Penalty on 10 October. Foreign Office Minister Baroness Warsi underlined the longstanding policy of the UK Government to oppose the death penalty in all circumstances as a matter of principle, and noted UK concern about the sharp increase in executions during the past twelve months in some of those countries which still apply and implement the death penalty. The FCO has highlighted Iran's record on the death penalty in an infographic: Iran: death penalty in numbers.
EU Enlargement
Minister for Europe David Lidington has welcomed the launch of 2012 European Commission Enlargement Package, saying that enlargement is one of the EU's greatest achievements and remains a priority for the UK:
Also this week:
Published 12 October 2012