This week at the Foreign Office
A look at the work of the Foreign Office and its embassies overseas this week.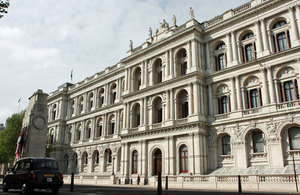 Syria
Foreign Secretary William Hague condemned the shelling by Syrian regime forces of the Turkish town of Akcakale on the Turkey-Syria border on Wednesday, describing it as an "outrageous act":
"Today's events are a stark reminder of the deteriorating situation in Syria, the dangers it presents to the wider region, and the need for an urgent resolution of the United Nations Security Council."
Yesterday the UN Security Council discussed the situation yesterday. See our UK Mission to the UN Twitter feed for more information and agreed statement.
Budapest Conference on Cyberspace
The Foreign Secetary said an open internet is the only way to support security and prosperity for all when he spoke at the Budapest Conference on Cyberspace on Thursday.
He called for an international consensus to address some of the negative aspects of the internet including cybercrime and state-sponsored cyber attacks.
And he announced that the Government will be investing £2m a year in a new Centre for Global Cyber Security Capacity Building in the UK. The centre will provide independent advice to countries on how to build a secure and resilient internet.
UK - India relations
Foreign Office Minister Hugo Swire said the UK's relations with India are going from strength to strength when he spoke at the Indian Ministry of External Affairs Dialogue on 4 October.
"We realise that India is re-emerging as one of the world's great powers. William Hague, our Foreign Secretary, was absolutely right when he said at the launch this year of the Kings College India Institute that 'this century will be shaped by India more than any other that has come before it'. That is why we are determined to increase our understanding of Indian Priorities and concerns."
Somalia
Development Secretary Justine Greening and Minister for Africa Mark Simmonds announced UK support to Somalia during their first visit to Africa this week.
Britain will help improve the Government's ability to manage its public resources while helping 20,000 Somalis benefit from better schools, sanitation, roads, health clinics and safety and security.
Also this week:
Published 5 October 2012