This week at the Foreign Office
A look at the work of the Foreign Office and its embassies overseas this week.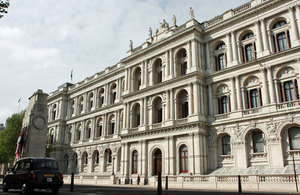 The Foreign Secretary answered questions from Parliament's Foreign Affairs Committee on Tuesday. The Foreign Secretary covered Syria, Libya, Afghanistan and other developments in UK foreign policy. When asked about his reaction to the tragic death of the US Ambassador in Benghazi the Foreign Scretary said:
"It is a tragedy, that is the first thing to say. This was a highly respected ambassador who worked very closely with many of our staff at the British Embassy in Tripoli and was working hard in the interests not just of the United States but in the interests of the people of Libya, and I called Secretary Clinton at the weekend to express our condolences and also to discuss the various security measures that each of our countries has taken. I also met the US Assistant Secretary of State Bill Burns in Baghdad the day after it happened last week and discussed the situation with him."
The Foreign Secretary also visited Poland with the Defence Secretary. Where he hailed the UK's important relationship with the country:
"It is a huge pleasure to be in Poland again. The United Kingdom and Poland share an important relationship. We are close allies within the EU and NATO and share a similar outlook on many international issues."
Foreign Office Minister Alistair Burt's visited the United Arab Emirates on Tuesday for the eighth meeting of the UK-UAE Task Force:
"It was a pleasure to visit the UAE to renew our close ties with the Emiratis. Through the UK-UAE Taskforce our investment is growing in each other's economies and our cultural and educational links are prospering. British nationals are helping to drive UAE prosperity and have been involved in iconic projects like the Burj Khalifa and Abu Dhabi Formula One. Emirati investment in the UK is also thriving, through innovative projects like the London Array, the world's largest offshore wind farm, and the fantastic Emirates Skyline - a new cable car across the River Thames in London."
Minister for Consular Affairs Mark Simmonds visited Alicante to learn about the issues faced by thousands of British nationals living in and visiting the region.
This weekend the Foreign Office opens its doors to the public as part of Open House London. Visitors can hear about the formation of the office, see the historic fine rooms, and meet Foreign Office staff and hear about life in the FCO.
Also this week:
Published 21 September 2012