This week at the Foreign Office
A look at the work of the Foreign Office and its embassies overseas this week.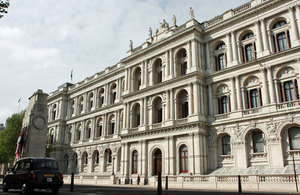 Attack on US Consulate
Foreign Secretary William Hague condemned the "brutal and senseless" attack on the US Consulate in Benghazi in which four people were killed, including US Ambassador to Libya Chris Stevens.
In light of this the Foreign Office has updated the travel advice for Libya to advise against all travel to Benghazi.
Foreign Secretary visits Egypt and Iraq
On Tuesday the Foriegn Secretary visited Egypt for meetings with the Egyptian President, Prime Minister and Foreign Minister.
"This visit has served to further broaden and deepen already strong ties existing between our two countries.
"I told President Mursi that Britain will continue to support the political and economic transition in Egypt and I delivered a letter from Prime Minister David Cameron to President Mursi inviting the President to visit London in the near future. We want to build an effective partnership which will strengthen democracy in Egypt, build prosperity and increase security for the people of both our countries."
In Iraq the Foreign Secretary met the Iraqi Prime Minister:
"This visit has helped to reaffirm the UK's long-standing friendship with Iraq and its people and had helped to further develop strong trade and commercial ties between our countries.
"I told Prime Minister al-Maliki that Britain will continue to support the political process in Iraq and the government's efforts to deliver stability. The UK recognises that Iraq still faces significant threats from extremists, but the security situation has generally improved. We will continue to be closely engaged on this issue."
See full coverage of the Foreign Secretary's visit to Egypt and Iraq via Storify
Somalia
Prime Minister David Cameron congratulated the new president of Somalia Hassan Sheikh Mohamud on his election and describing it as a significant moment for Somalia, and an important step towards a renewed political process. Foreign Secretary spoke to Somalia's new president on Tuesday.
On Thursday, Minister for Africa Mark Simmonds condemned the bomb attacks on a hotel in Mogadishu where the President of Somalia and the Kenyan Foreign Minister were staying.
Also this week:
Published 14 September 2012