This week at the Foreign Office
A look at the work of the Foreign Office and its embassies overseas this week.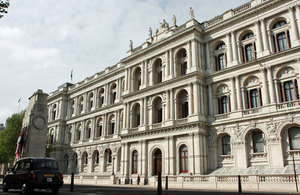 Syria
"Our objective remains an end to violence and a transition to a more democratic and stable Syria" said Foreign Secretary William Hague when he updated Parliament on the situation on Monday.
"This crisis began when the people of Syria demanded their legitimate rights and freedoms. The Assad regime has tried to crush their aspirations and extinguish their hope. We will use all diplomatic means available to us to help them, working with the UN, the Friends of Syria Group, the European Union, Arab countries and key allies such as France, the United States and Turkey. As I have said to the House before, we have not ruled out any options as this crisis deepens. At the UN General Assembly later this month we will seek once again to generate the determined, concerted international action that the situation demands and that Syrian people have every right to expect."
Today the Foreign Secretary is in Cyprus encouraging EU members to contribute more funding to the humanitarian effort in Syria. The UK is the largest donor in the EU, contributing 42.8% of the overall total to date.
Cyber security
On Wednesday the Government launched a Guide to Cyber Security for Business. Speaking at the launch the Foreign Secretary said that as online access becomes easier, and more people spend time online, we are creating a fertile environment for cyber crime, espionage and the activity of hackers.
"With the launch of the '10 Steps to Cyber Security' we hope to support British businesses to take full advantage of the benefits of the internet whilst at the same time taking reasonable steps to mitigate the risks."
New Foreign Office ministerial team
Prime Minister David Cameron announced the new Foreign Office ministerial team and their areas of responsibility this week. Baroness Warsi, Hugo Swire and Mark Simmonds join David Lidington, Lord Green and Alistair Burt in Foreign Secretary William Hague's team.
Full details are in the Our Ministers section
Paralympics
"We want the Games to be remembered as the most inclusive games ever" said the Foreign Secretary when he spoke at the Paralympic Inclusion Summit on Thursday.
Also this week:
Published 7 September 2012