This week at the Foreign Office
A look at the work of the Foreign Office and its embassies overseas this week.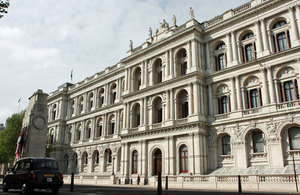 Foreign Secretary William Hague condemned Iran's widespread abuse of its citizens' human rights as a "disgrace and a "shameful indictment of Iran's leaders" in a statement today.
"The Iranian Government should know that its systematic attempt to curtail the freedom of its citizens will not go unchallenged by the international community and only adds to its isolation."
With just 5 days to go the Foreign Office is gearing up to celebrate London hosting the 2012 Paralympic Games. Our posts around the world have been looking forward to the start on 29 August.
Commenting on progress on transition in Somalia, Foreign Office Minister Alistair Burt said that "Convening a new federal national parliament gives the people of Somalia a stake in their political future for the first time in a generation."
New Deputy Ambassador to Afghanistan Nic Hailey wrote about initial impressions after his first few weeks in Kabul:
"It's all too easy to think about Afghanistan through the prism of our military campaign, or to focus only on this country's difficulties and challenges. Those challenges are of course very real. But the young musicians, the football entrepreneurs, or just the ordinary Afghans taking pride in their history or their nation showing its sportspeople to the world, are a good reminder that Afghanistan is about a lot more than that - and of what has been achieved here."
Speaking after clashes in eastern Kenya over water and grazing rights left at least 50 people dead and many more injured, Foreign Office Minister Alistair Burt said it is important that the underlying grievances that result in these kinds of incidents are properly addressed.
Published 24 August 2012