This week at the Foreign Office
A look at the work of the Foreign Office and its embassies overseas this week.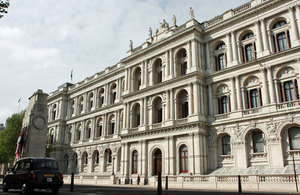 Julian Assange
Foreign Secretary William Hague said he is disappointed by the Ecuadorian Government's decision to offer political asylum to Julian Assange. He said that the UK is determined to carry out its legal obligation to see him extradited to Sweden:
"Under our law, with Mr Assange having exhausted all options of appeal, the British authorities are under a binding obligation to extradite him to Sweden. We must carry out that obligation and of course we fully intend to do so. The Ecuadorian Government's decision this afternoon does not change that in any way. Nor does it change the current circumstances in any way. We remain committed to a diplomatic solution that allows us to carry out our obligations as a nation under the Extradition Act.
Syria
Foreign Office Minister David Lidington said that the latest report from the UN Human Rights Council report is a "chilling reminder" of how far the situation in Syria has deteriorated over the last six months.
"The report is clear that the gravity, frequency and scale of human rights violations perpetrated by the Syrian Government and its Shabbiha militia far exceeds abuses committed by anti-government armed groups. The Syrian government has not simply failed in its responsibility to protect its citizens, but continues to repress them on a daily basis. The report lays the blame squarely at the regime's door for the horrific massacre in Al-Houlah, confirming the earlier findings of UNSMIS and British-trained human rights activists"
**
12 days to go until the Paralympic Games**
11 members of the UAE Paralympics team, including four women will be in London for the Paralympic Games to compete in shooting, weightlifting and athletics. Foreign Office Minister David Lidington met the team during a visit to Stoke Mandeville and wished them every success.
Balcony incidents
The Foreign Office and ABTA joined forces on a campaign to help prevent balcony incidents among young people in popular holiday resorts after 13 incidents of young people falling occured so far in 2012.
Jake told us his story:
Also this week:
Published 17 August 2012