This week at the Foreign Office
A look at the work of the Foreign Office and its embassies overseas this week.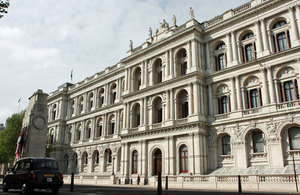 **Syria
**
The Foreign Secretary said Russia and China have "turned their back on the people of Syria in their darkest hour" after they vetoed a UN Security Resolution on Thursday:
"The situation in Syria is desperately serious, and it is getting worse by the day. Earlier this week I met Syrian refugees in Jordan whose homes had been destroyed, whose family members had been killed in cold blood, who had walked for weeks to escape horror in their country, and who have witnessed some of the atrocities and human rights abuses being committed on a vast scale."
Today the UNSC agreed to extend the UN Supervision Mission in Syria for a final 30 days.
Afghanistan
Prime Minister David Cameron visited frontline troops in Camp Bastion, Helmand Province. Discussing the withdrawal of British troops by the end of 2014 he said:
"What I will commit to is that we will do this in a sensible, ordered, practical way - 9,500 to 9,000 this year. As Afghan troops take a bigger role we will be able to reduce troop numbers further next year.
"I don't want to see some cliff edge. I'm confident we are going to have a staged reduction and deliver a safe and secure situation."
Also this week the Foreign Secretary updated Parliament on progress in Afghanistan during June.
British Behaviour Abroad
Released on Thursday, our British Behaviour Abroad report showed that from 1 April 2011-31 March 2012 Foreign Office staff handled 19,874 assistance cases, up 3% from the previous year with Spain USA and France recording the highest number.
7 days to go
In a video message the Foreign Secretary offered a warm welcome to everyone attending or watching the Olympic Games which are just a week away.
The FCO bloggers have also been looking ahead to the Games. British Ambassador to Somalia Matt Baugh met some of the Somali athletes who will take part. British Ambassador to the Netherlands Paul Arkwright took a guest post from Olympink 2012, a group of 39 women and one man cycling from Groningen to the opening of the Games in London to raise money for a breast cancer research.
Also this week:
Published 20 July 2012