This week at the Foreign Office
A look at the work of the Foreign Office and its embassies overseas this week.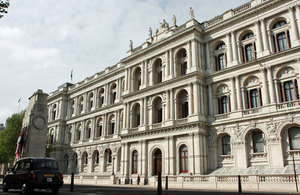 **Syria
**Foreign Secretary William Hague condemned the 'shocking and appalling' Syrian massacre following reports that 200 people had been killed on Thursday.
"We have two urgent priorities - to establish an accurate account of what happened in Traymseh so that those responsible can and will be held to account; and to agree urgent action at the United Nations Security Council."
British diplomats in New York continue negotiations on a Resolution at the Security Council.
European Union
The Foreign Secretary made a statement to Parliament on the review of the balance of competences of the EU as it affects the UK:
"The review will be an audit of what the EU does and how it affects us in the United Kingdom. It will look at where competence lies, how the EU's competences, whether exclusive, shared or supporting, are used and what that means for our national interest. These are issues that affect all EU member states and could have a bearing on the future shape of the EU as a whole."
**International justice
** Thomas Lubanga was sentenced to 14 years after facing charges of war crimes committed in the Democratic Republic of Congo in 2002-3. The Foreign Secretary said said the sentencing is a powerful reminder that those who commit the most serious international crimes will be held accountable.
On Monday the Foreign Secretary said that "justice and international law are central to foreign policy" in a speech in The Hague:
"The Arab Spring has shattered the idea that nations can maintain long-term stability and prosperity without human rights, political participation and economic freedom for their citizens.
And international laws and agreements are the only durable framework to address problems without borders, from protecting our oceans to tackling terrorism and cyber crime.
Such agreements - if they are upheld - are a unifying force in a divided world, and they underpin our collective security."
South Sudan
South Sudan celebrated its first anniversary on 9 July. Speaking on the anniversary the Foreign Secretary congratulated South Sudan and called on the Government's of South Sudan and Sudan to demonstrate leadership by creating a lasting peace with each other to allow both nations to thrive.
Human Rights
The Foreign Office has published new reporting on 28 countries of concern, along with new updates on two additional countries: Bahrain and Ethiopia. The updates cover the period from April to June 2012.
Also this week
Published 15 July 2012