This week at the Foreign Office
A look at the work of the Foreign Office and its embassies overseas this week.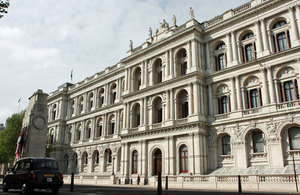 Aung San Suu Kyi visits UK
Foreign Secretary William Hague met Aung San Suu Kyi this week when she visited the UK for the first time since 1988. Speaking after the meeting the Foreign Secretary said:
"It was a pleasure to welcome Daw Aung San Suu Kyi to the Foreign and Commonwealth Office during her historic return to the UK. She is a symbol of hope to all those people around the world striving for democracy.
Aung San Suu Kyi also addressed Foreign Office staff, before meeting the Prime Minister and addressing both UK houses of Parliament at Westminster Hall.
**Syria
**The Foreign Secretary discussed the situation in Syria with Special Envoy Annan. After the meeting the Foreign Secretary reiterated support for the six-point plan:
"Kofi Annan's plan remains the best hope to achieve an end to violence and a genuine, peaceful political transition. I made clear that the UK would continue to do all that it could to compel the regime to implement the plan in full, and encourage all parties to step back from confrontation."
Syria was also high on the agenda when he met the King of Jordan on Monday, and Ministers from countries of the Gulf Cooperation Council on Thursday.
G20 in Mexico
Prime Minister David Cameron, Chancellor George Osborne and Minister for Trade and Investment Lord Green attended the G20 Summit in Los Cabos. The Eurozone dominated discussions.
Working towards an Arms Trade Treaty
Ahead of the UN conference, Foreign Office Minister Alistair Burt met Amnesty International and Oxfam youth activists to set out the UK's vision for the Arms Trade Treaty.
Also this week:
Published 22 June 2012