This week at the Foreign Office
A look at the work of the Foreign Office and its embassies overseas this week.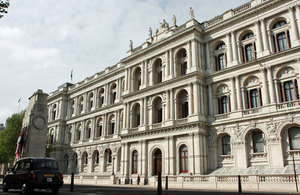 At the start of this week the UK was celebrating Her Majesty Queen Elizabeth II's diamond jubilee. Our Embassies and High Commissions marked her 60 years on the throne.
Foreign Secretary William Hague spoke at a lunch to mark the occasion:
"Our Queen is the unsurpassed Briton, and today we the British people renew our loyalty to her. No one has done more than Her Majesty to strengthen the bonds of friendship, understanding and goodwill between Britain and the world. With her own unique diplomacy she has touched the lives of millions of people beyond our shores and far beyond the sixteen nations of which she is Head of State."
Syria
The Foreign Secretary said that the Annan plan has failed so far, but is not dead and all hope for it is not lost when he spoke about the situation in Syria on Thursday:
"It would take a big change on the part of the regime but time is not yet at an end, it's clearly running out because that violence is escalating and violence, even violence against the regime appears to be escalating, we saw accounts of perhaps eighty Syrian soldiers killed the other day."
You can see UK response to the situation in Syria via Storify.
Forced marriage
Prime Minister David Cameron has announced that forced marriage will become a criminal offence in England and Wales. The new law will be accompanied by a range of measures to increase protection and support for victims and a continuing focus on prevention.
Also this week
Published 8 June 2012