This week at the Foreign Office
A look at the work of the Foreign Office and its embassies overseas this week.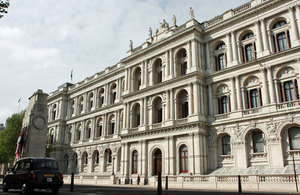 NATO leaders started this week at the NATO Summit in Chicago. Afghanistan was high on the agenda as leaders discussed support for the country after 2014 when combat troops leave.
Monday marked 100 days to go until the London 2012 Paralympic Games. Foreign Office Minister Jeremy Browne explained why he is looking forward to the Games, explaining how the Games inspire people to achieve their potential, and in many cases, overcome adversity. The Olympics was the theme for many of our bloggers this week.
Strengthening economic cooperation between the UK and Jordan was the aim of the first meeting of the UK-Jordan Strategic Economic Dialogue. Foreign Office Minister Alistair Burt and International Development Minister Alan Duncan represented the UK at the talks in London.
The Friends of Yemen group met in Riyadh on Wednesday. The group reenergised its political engagement to supporting President Hadi and his government to implement change. Speaking after the meeting the Minister for the Middle East said:
"The UK government is committed to driving international efforts to provide assistance for Yemen's plans to tackle all forms of instability and help it build on the important, but fragile progress it has made on political transition."
Also on Wednesday, the Foreign Secretary discussed Iran and the Middle East Peace Process when he met the Israeli Foreign Minister Avigdor Lieberman.
On Thursday the Foreign Secretary called on Iran to take "urgent concrete steps" after talks in Baghdad between Iran and the E3+3 concluded with "limited progress".
Also this week
Published 25 May 2012