This week at the Foreign Office
A look at the work of the Foreign Office and its embassies overseas this week.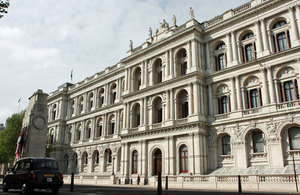 EU Foreign Ministers agreed further sanctions against the Syrian regime this week. The Foreign Secretary said that the regime must implement rapidly and fully its commitments to Kofi Annan's plan:
"This plan remains the best hope of ending the violence, but it is not open-ended and we will not hesitate to return to the UN Security Council if it is not implemented swiftly and in full."
Foreign Secretary William Hague opened the debate on the Government's Foreign Affairs and International Development policy on Tuesday. During the debate he announced that the UK would open two new deputy high commissions in Hyderabad and Chandigarh:
"It will give us a deeper understanding of India at a time when its role in the world economy and on the world stage is growing as never before. It will help expand our trade and investment relationship by helping British companies, and it will deepen our political links with State leaders across India."
The Foreign Secretary spoke at the Annual dinner of the Confederation of British Industry on Wednesday:
"It is crucially important that investors overseas have confidence in Britain as a place to base their business. It is vital that we have Embassies around the world that are able to champion Britain and help create a stable and open international environment in which our country can thrive. This is why foreign policy has to support jobs and growth, and prosperity."
Foreign Office Minister Jeremy Browne visited Japan, South Korea and China.
Foreign Office Minister Jeremy Browne and International Development Minister Stephen O'Brien marked International Day Against Homophobia and Transphobia.
The Olympic flame was handed to London in Greece for the third time since the birth of the Olympic Games. The flame is due to arrive in the UK on Friday at Royal Naval Air Stationn Culdrose in Cornwall.
The Foreign Office Historians launched their latest online exhibition, which looks at the 1948 Olympics held in London and examines the impact of the Cold War on the Games.
This weekend the Prime Minister is attending the G8 at Camp David in Maryland and then going on to the NATO Summit in Chicago along with the Foreign Secretary William Hague and Defence Secretary Philip Hammond. Keep up with the latest updates via Storify.
Published 18 May 2012