This week at the Foreign Office
A look at the work of the Foreign Office and its embassies overseas this week.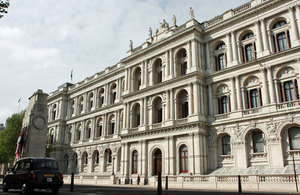 This week the Government's foreign policy priorities for this Parliament were announced by Her Majesty The Queen in her speech to Parliament on Wednesday.
On Tuesday the Foreign Secretary William Hague marked World Red Cross and Red Crescent Day.
"As recent events have shown, the Red Cross and Red Crescent often carries out its essential humanitarian role - which includes seeking access to those most in need - in the most challenging of circumstances."
Bomb attacks in Syrian capital Damascus on Thursday killed at least 40 people and injured more than 300. Condemning the attacks the Foreign Secretary said that repression and violence in the country must come to an end:
"I urge the Syrian government to implement rapidly and fully their commitments under the six point plan. And I call on the opposition to take all steps necessary to bring about a sustainable end to the violence."
Prime Minister David Cameron met Pakistan Prime Minister Gilani on Thursday. At the The two Prime Ministers reviewed the practical co-operation on shared interests which has intensified across the five areas covered by the Enhanced Strategic Dialogue, including trade, economic growth and development, cultural co-operation, security and education.
Foreign Office Minister Lord Howell introduced the EU Treaty Amendment Bill to the House of Lords. He said that the change will help eurozone countries take forward a key aspect of their plan to resolve the euro crisis and secure financial stability.
It is 77 days until London hosts the Olympic Games. On Wednesday Foreign Office Minister Jeremy Browne welcomed young Brazilian athletes to the stadium.
The Olympic Torch was lit in Greece by the rays of the sun on Thursday. It will travel around Greece before heading to London, where it is expected to arrive on 18 May.
Also this week
Published 11 May 2012