This week at the Foreign Office
A look at the work of the Foreign Office and its embassies overseas this week.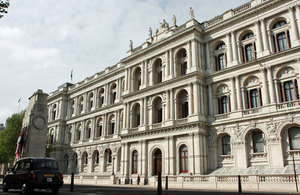 This week Foreign Secretary William Hague launched the Foreign Office's Human Rights and Democracy report. Speaking at the launch the Foreign Secretary said that the Foreign Office will continue to strengthen and develop its work on human rights.
Foreign Office Minister Alistair Burt welcomed the start of the Nuclear Non-Proliferation Treaty Preparation Committee:
"The PrepCom this week and next will be an opportunity for the States Parties to reaffirm their commitment and to assess progress against the Action Plan, building on the success of 2010. I am pleased that the UK will be attending the PrepCom with our strong disarmament record and with concrete examples of how we are implementing the Action Plan and strengthening the non-proliferation regime."
Thursday was World Press Freedom Day. The Foreign Secretary said that the day gives us the opportunity to honour the work of all those who strive to defend one of our fundamental human rights, the freedom of expression:
"It is appalling that 19 journalists have been killed so far this year doing their invaluable work, while many more have suffered imprisonment. Today we remember them all, including Sunday Times Journalist Marie Colvin and French photographer Remi Ochlik, who died bringing us the truth about what is happening to the people of Homs.
As more media appears online, more online journalists, including bloggers, are also being harassed, attacked and killed for their work. We remember them also, and call for the release of those who have been arbitrarily detained."
Other World Press Freedom Day activity:
More than 100 civilians were awarded the first Afghanistan Civilian Service Medals for their dedicated work to bring about a better future for Afghanistan. We also spoke to medal recipient Katie about her work in Kabul.
**Also this week
**
Published 4 May 2012