This week at the Foreign Office
A look at the work of the Foreign Office and its embassies overseas this week.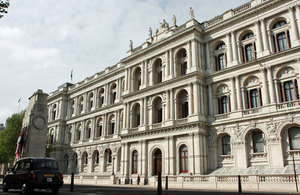 Foreign Secretary William Hague visited Vietnam, Singapore and Brunei as part of his four-day tour of South East Asia.
Speaking ahead of the visit, which started in Vietnam, the Foreign Secretary said:
"Vietnam is a country with vast potential and a key friend of the UK in South East Asia. The Strategic Partnership which we signed in 2010 demonstrates our commitment to working with Vietnam both bilaterally and in the wider regional and international context, as Vietnam plays an increasingly important role on the global stage."
After Vietnam the Foreign Secretary visited Singapore:
"It is often said that Singapore is the gateway to Asia, just as the UK is in many ways the gateway to Europe. We have much in common and much to learn from each other, and it is my wish that we continue as leading partners in the years ahead."
In Brunei the Foreign Secretary attended the EU-ASEAN Foreign Ministers' meeting which discussed a range of issues, including the global financial and economic situation, security issues, climate change and the environment
On Monday EU Foreign Ministers met in Luxembourg to discuss the suspension of sanctions against Burma.
Welcoming the decision, Prime Minister David Cameron said:
"President Thein Sein has taken important steps towards reform in Burma, and it is right for the world to respond to them. But those changes are not yet irreversible, which is why it is right to suspend rather than lift sanctions for good."
Foreign Office Minister for Europe David Lidington also commented in his blog post: 'What has been the effect of EU sanctions on Burma?'
On Thursday the Foreign Secretary welcomed the news that the Special Court for Sierra Leone found Charles Taylor guilty of war crimes in Sierra Leone.
He said:
"This landmark verdict demonstrates that those who have committed the most serious of crimes can and will be held to account for their actions; it demonstrates that the reach of international law is long and not time limited and it demonstrates that Heads of State cannot hide behind immunity."
Monday was also St George's Day.

Also this week:
Published 27 April 2012