This week at the Foreign Office
A look at the work of the Foreign Office and its embassies overseas this week.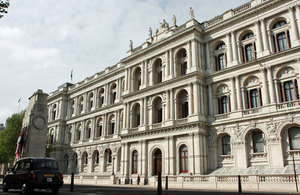 Foreign Secretary William Hague said that the lessening of violence in Syria is a "fragile step towards peace" that needs to be strengthened and sustained:
"I urge the Assad regime to implement fully its undertakings to the Joint Arab League and UN Special Envoy on Syria, including withdrawing troops and weaponry from residential areas. The Syrian government has a record of failing to keep its promises. It has the opportunity to change that now: it should seize it."
G8 Foreign Ministers discussed the situation in Syria when they met in Washington on Thursday. Also on the agenda was stability and security in Afghanistan and peaceful mean of preventing Iran from obtaining nuclear weapons.
Prime Minister David Cameron is in Burma today as part of a four-day trade tour of Japan and South East Asia.
The E3+3 group will meet in Istanbul for talks with Iran on Saturday. Speaking ahead of the meeting, Foreign Office Minister Alistair Burt said that the onus is on Iran to prove to us it is serious this time.
Read the Foreign Office Minister's blog: UK expectations for talks with Iran
Also this week:
Published 13 April 2012