This week at the Foreign Office
A look at the work of the Foreign Office and its embassies overseas this week.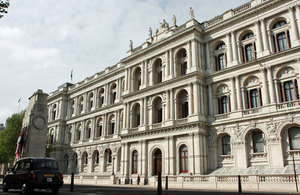 On Thursday Foreign Secretary William Hague talked about working with the Middle East and plans to develop the UK's global role in his speech to the Lord Mayor's banquet. In the speech he announced that he has agreed to provide half a million pounds of British support to Syria's political opposition. This support includes agreement in principle for practical non-lethal support to them inside Syria:
"It will help hard-pressed opposition groups and brave civil society organisations inside and outside the country to document the regime's violations and gain the skills and resources they need to help build a democratic future for Syria."
On Sunday the Foreign Secretary will attend the next meeting of the Friends of Syria meeting in Istanbul.
The Foreign Secretary also discussed Syria when he met the Tunisian Foreign Minister in London on Wednesday. Speaking after their meeting the Foreign Secretary said:
"Tunisia has been steadfast in its support for human rights in Syria, and hosted the first meeting of the Friends of Syria on 24 February. Bringing an end to the violence of the Assad regime will require concerted effort from countries of the region, and I welcome Tunisia's commitment to support this."
Welcoming the UN Security Council statement on Yemen on Thursday, Minister for the Middle East Alistair Burt said it is vital that we keep Yemen on the international community's agenda:
"Yemen has made progress with the peaceful transfer of power to President Hadi in February's elections, but the recent deterioration in political cooperation is a real cause for concern. I call on all those with a stake in Yemen's future to work together to make political, economic and security reform a reality. In particular, the Government must begin the process of National Dialogue at the earliest opportunity."
While visiting Kenya, Minister for Africa Henry Bellingham launched a campaign called Sea Safe which provides advice to visitors, helping them to enjoy the Indian Ocean safely.
Also this week:
Published 30 March 2012