This week at the Foreign Office
A look at the work of the Foreign Office and its embassies overseas this week.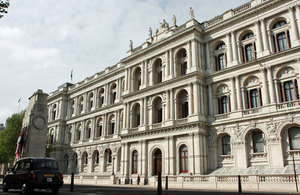 EU Foreign Ministers agreed to impose further sanctions on Syria, including two oil companies and a further 12 individuals closely associated with the repression being carried out by the Syrian regime. Welcoming the sanctions the Foreign Secretary said:
"This is a further step in tightening the economic and diplomatic stranglehold on this criminal regime. The message to those who continue to side with Assad is clear - the violence must end and those responsible will be held to account."
The UN Human Rights Council agreed to extend the mandate of the Commission of Inquiry to ensure that those responsible can be held to account. Minister the Middle East Alistair Burt said that the Commission has played a vital role in documenting and publicising the appalling human rights violations and abuses.
The Foreign Secretary welcomed sanctions on Iran, that were agreed at the Foreign Affairs Council in Brussels:
"Iran cannot ignore the international community and should be in no doubt that we will ratchet up the pressure until it chooses a different path."
The Foreign Secretary agreed to intensify co-operation with Italy on counter terrorism when he meet his Italian Foreign Minister Guilio Terzi on Thursday.
Making the most of our relations with Latin America: Foreign Office Minister Lord Howell reaffirmed Britain's commitment to deepening relations and co-operation with Latin America in a speech to the Latin America Investment Forum.
Judith Tebbutt was released after being kidnapped six months ago following an attack on the Kenya/Somali border which killed her husband David.
Also this week
Published 23 March 2012