This week at the Foreign Office
A look at the work of the Foreign Office and its embassies overseas this week.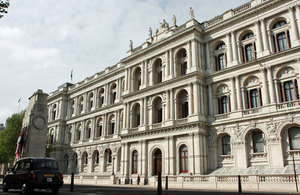 This week the Foreign Secretary said it is time for the UN Security Council to show unity and leadership when he spoke about Syria at a debate on the Middle East in New York on Monday. He then hosted a debate called "From Activism to Accountability" which focused on the power of innovative peaceful protest in bringing about positive change.
He then travelled to Washington, where Prime Minister David Cameron met US President Barack Obama for talks.
Minister for the Middle East Alistair Burt noted the UN's "harrowing" report on Syrian abuses, saying that there should be no impunity for those who commit atrocities.
Marking the one year anniversary of the Syrian uprising, British Ambassador to Syria Simon Collis blogs: "It never had to be this way"
In his third visit to Tunisia since the revolution, Foreign Office Minister Alistair Burt underlined the UK's support for Tunisia's transition process:
"The world has watched with admiration as Tunisia has led the way in the Arab Spring and the path of democratisation. A year ago the people of Tunisia bravely rose up in the name of freedom and dignity against years of autocratic rule. Those freedoms fought for must now be enshrined in the new constitution so that the people of Tunisia can enjoy them for generations to come."
A new website and social media presence for Iranians has been launched by the Foreign Office today, opening up the opportunity for a dialogue direct with the Iranian people. "UK for Iranians" gives Iranians the opportunity to find out more about the UK and our policies. It aims to provide an accurate and undistorted picture of the UK's policies towards Iran and the Middle East.
The Queen sent a message to mark Commonwealth Day on 12 March, where she talked about "Connecting Cultures", this year's Commonwealth theme:
"One of the great benefits of today's technology-based world is the range of opportunities it offers to understand and appreciate how others live: we can see, hear and enter into the experience of people in communities and circumstances far removed from our own."
Speaking ahead of the Commonwealth Day observance at Westminster Abbey, Minister for the Commonwealth Lord Howell said:
"The UK has no doubt that the Commonwealth and its networks are a force for good, based on strong values, which can help deliver prosperity and enrich the livelihoods of all Commonwealth citizens and connect our cultures."
Also this week
Minister for Africa welcomed the International Criminal Court verdict of Thomas Lubanga, who faced charges of war crimes committed in DRC in 2002-3

The final episode of Channel 4 documentary Our Man In… Focussing on the work of consular staff in Spain aired on Thursday. You can view the three part series now on 4OD.

Published 16 March 2012