This week at the Foreign Office
A look at the work of the Foreign Office and its embassies overseas this week.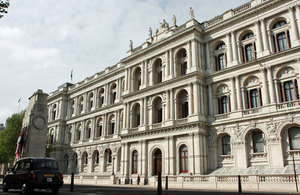 Following the presidential elections in Russia at the weekend, Foreign Secretary William Hague said that all examples of electoral violations should be thoroughly investigated.
"It is in Britain's interests to develop a stronger and deeper partnership with Russia, by addressing the obstacles in the relationship so that we can extend our political and trade engagement. We look forward to working with the Russian government to do this."
Now back in the UK following the closure of the British Embassy in Damascus, British Ambassador to Syria Simon Collis discussed the situation in the Syria:
"The regime has continued after 7,000 deaths, well over 10,000 detained and many people tortured. They have escalated their tactics and reached a stage where they're using heavy artillery rockets to fire in to civilian area. It has been a policy of violence from the beginning which has steadily intensified until there's a kind of mini Stalingrad that we've seen in Homs over the last month."
Also this week the UK, US, France, Germany, Russia and China agreed to further talks with Iran about its nuclear programme. The Foreign Secretary said:
"The onus will be on Iran to convince the international community that its nuclear programme is exclusively peaceful, by taking concrete actions. If it does so then we have always been ready to respond positively by offering assistance with the development of Iran's civil nuclear power stations, and extending co-operation in other areas from political relations to economic development, as the E3+3 have consistently offered since 2008. Until those actions are taken we will not ease the international pressure on Iran."
Thursday was International Women's Day. The Foreign Secretary paid tribute to those working to advance the human rights of women around the world. Posts from our foreign office bloggers marked the day, the Foreign Office launched the latest podcast in our human rights series, and the Foreign Secretary hosted guest posts from influential women on his facebook page.
Prime Minister David Cameron confirmed that two hostages had been killed in Nigeria on 8 March. The British and Italian men were taken by terrorists in May 2011. Early indications are that both men were murdered by their captors before they could be rescued.
Also this week:
Published 9 March 2012