This week at the Foreign Office
A look at the work of the Foreign Office and its embassies overseas this week.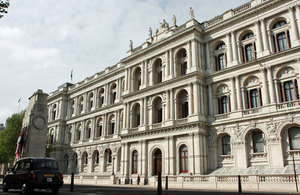 This week the UK hosted the London Conference on Somalia attended by 55 Delegations from Somalia and the international community. The Conference focussed on the underlying causes of instability, as well as the symptoms (famine, refugees, piracy and terrorism).
**Syria
**
Today the Foreign Secretary is in Tunisia to attend the first "Friends of Syria" meeting, which aims to intensify action of the international community in response to the events in Syria.
On 22 February the Commission of Inquiry into human rights violations in Syria published their report which confirmed that Syrian Government forces have committed "widespread, systematic and gross human rights violations". Minister for the Middle East Alistair Burt described the report's conclusion as "damning" on 23 February and called for all Syrians to "respect human rights standards, end the violence immediately and ensure neutral and impartial access for humanitarian organisations to deliver desperately-needed supplies and medical care".
Journalists Marie Colvin and Remi Ochlik were killed while reporting from Homs on Tuesday. The Foreign Secretary said that their deaths were a "terrible reminder of the suffering of the Syrian people, scores of whom are dying every day:
"Marie and Remi died bringing us the truth about what is happening to the people of Homs. Governments around the world have the responsibility to act upon that truth - and to redouble our efforts to stop the Assad regime's despicable campaign of terror in Syria."
Pakistan
Pakistan's Foreign Minister Hina Rabbani Khar visited Britain for talks on the UK-Pakistan Enhanced Strategic Dialogue. Speaking after the meeting the Foreign Secretary said that the UK is committed to a relationship with Pakistan that is deep, long term and strategic:
"We value its many distinctive characteristics; such as the close personal ties between hundreds of thousands of our citizens, our crucial partnership against terrorism, our important trade ties and our unswerving commitment to Pakistan's development and to its democratic future."
Other news:
Published 24 February 2012