This week at the Foreign Office
A look at the work of the Foreign Office and its embassies overseas this week.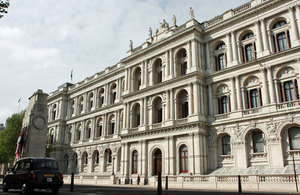 The Foreign Secretary started the week in South Africa on a visit which aimed to reinvigorate the UK's relationship with the country. While there he gave speech on a 21st century partnership. He then travelled to Botswana for talks with Foreign Minister Skelemani
On Thursday the UN voted to back the Arab League's plan for a Syrian-led solution to the crisis in Syria. The Foreign Secretary said it sent a "clear signal of the international community's condemnation of the Syrian regime's actions".
The leaders of the UK and France discussed the situation in Syria when they met in Paris today.
A year on from the uprising in Libya, the Foreign Secretary announced further support for the country.
Minister for the South Asia Alistair Burt welcomed the announcement that the World Trade Organisation would grant Pakistan a waiver for an EU trade package.
Foreign Office Minister Jeremy Browne visited India as part of the UK's commitment to build a stronger wider and deeper partnership with India. While there he looked ahead to the London Olympics where he joined two of India's sporting champions for sports fixtures involving local children.
As London Fashion Week starts, Fashion designers John Rocha and Louise Kennedy talked to us about finding creative inspiration in Britain.
Also this week:
Published 17 February 2012