This week at the Foreign Office
A look at the work of the Foreign Office and its embassies overseas this week.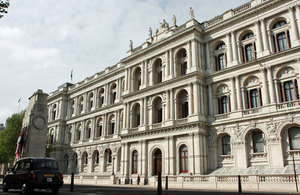 This week Syria dominated the news as violence continued in Homs. Last week Russia and China vetoed a UN Security Council Resolution which demanded an end to all violence. Foreign Secretary William Hague said their decision to do so was a "grave error of judgement" when he updated Parliament on the situation:
"Russia and China have twice vetoed reasonable and necessary action by the United Nations Security Council. Such vetoes are a betrayal of the Syrian people. In deploying them they have let down the Arab League; they have increased the likelihood of what they wish to avoid in Syria - civil war - and they have placed themselves on the wrong side of Arab and international opinion."
The Foreign Secretary said the UK will not forget the people of Syria, and will redouble efforts to put pressure on the Syrian regime. The Syrian Ambassador to London was summoned to the Foreign Office on Monday where Permanent Under-Secretary Simon Fraser made clear the UK's condemnation of the atrocities being committed by the Syrian regime.
Somalia
In two weeks the UK will host an international conference with the aim of delivering a new international approach to Somalia. In the run up to the conference:
**Afghanistan
**The Foreign Secretary spoke about consolidating progress and strengthening long-term international commitment to Afghanistan when he updated Parliament on developments in the country.
He also published the UK-Afghanistan Enduring Strategic Partnership which was signed by the Prime Minister and Afghan President in January.
Also this week
Published 10 February 2012