This week at the Foreign Office
A look at the work of the Foreign Office and its embassies overseas this week.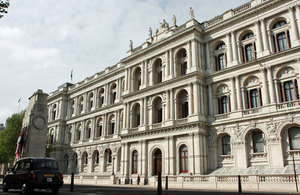 This week the Foreign Secretary urged the UN to support the Arab League on Syria when he spoke at the UN Security Council. In the UK intervention he said:
"We must address the horrifying violence that has engulfed Syria for the last ten months, which is an unmitigated tragedy for the people of that country and a real threat to international peace and security;
And we must do so in a way that gives the greatest possible chance of a peaceful and lasting solution.
The League of Arab States has proposed a way to achieve this and they should be congratulated and supported in doing so."
He welcomed Morocco's leading role when he met the Minister Delegate for Foreign Affairs Youssef Amrani.
On Thursday the Foreign Secretary visited Somalia's capital Mogadishu, the first Foreign Secretary to visit since 1992.
Read the Foreign Secretary's reflections on his visit on his facebook page
The Foreign Secretary will answer questions from the public on Africa and his visit via Twitter on Monday. Tweet your question using #askfs. More information
Minister for Africa Henry Bellingham held discussions on Somalia with leading NGO's and academics ahead of the London Conference on Somalia on 23 February.
Foreign Office Minister Jeremy Browne wrote an article about human rights and the Government's position on torture. In it he said that the UK Government's vision is for journalists, lawyers and activists to be treated fairly and to be able to speak freely in every country.
While on a visit to Madrid, Minister for Europe David Lidington gave a speech on " Europe in a changing world" at the New Economy Forum.
Also this week
Published 3 February 2012