This week at the Foreign Office
A look at the work of the Foreign Office and its embassies overseas this week.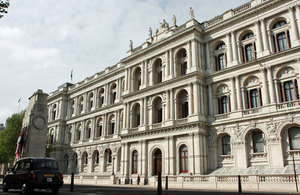 The Foreign Secretary started this week in Brussels for the EU Foreign Affairs Council. Foreign Ministers agreed new sanctions on Iran, demonstrating the EU's growing concern about the country's nuclear programme.
The EU also agreed new sanctions on Syria. This latest round targets 22 individuals and 8 entities supporting the Syrian regime's violence against its people.
The Foreign Secretary returned from Brussels to host the UK-Australia Ministerial Consultations (AUKMIN).
Foreign Office Minister Jeremy Browne urged the Chinese government to exercise restraint following reports that security forces opened fire on protesters in Tibetan areas of Sichuan.
" Now is the time to study India, to invest in India and to work with India": The words of Foreign Secretary William Hague when he spoke at the launch of the King's College India Institute on 26 January.
27 January is Holocaust Memorial Day. Foreign Secretary William Hague said that the unparalleled horrors of the Holocaust teach us that there can be no place in society for hatred and discrimination.
It's been a year since the momentous events in Tunisia, Egypt and across the region, now known as the Arab Spring. The FCO and its missions abroad are marking the first anniversary in a number of ways.
Now the Foreign Office tells the story of the Arab Spring from the UK's perspective. We track some of our key diplomatic action, consular assistance, speeches, statements, blogs, visits, upscaling of the Arab Partnership and project milestones:
UK's response to the Arab Spring on Dipity.
Also this week:
Foreign Office Minister Jeremy Browne updated Parliament on the Government's response to the sinking of the Costa Concordia.
In his meeting with the Colombian Vice-President, Minister for the Middle East Alistair Burt reiterated the UK's commitment to support the country's efforts on human rights.
The British High Commission in Zambia raised money for an orphanage which rescues orphaned or abandoned children.
Minister for Europe David Lidington has written a series of blog posts on the UK's priorities in Europe.
This weekend, the Foreign Office's Know Before You Go team will be at the Adventure Travel Show in Olympia, London to give practical advice and tips to people planning their next trip abroad.
Published 27 January 2012