This week at the Foreign Office
A look at the work of the Foreign Office and its embassies overseas this week.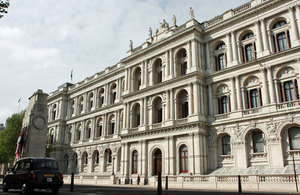 To mark the first anniversary of the Arab Spring, Foreign Secretary William Hague wrote an article in the Times newspaper. Speaking on the death of civilians and a journalist in Homs this week, he said, "these deaths highlight once again the terrible price being paid by the people of Homs, as well as the courage of journalists who take great personal risks to bring to light what is happening to the people of Syria."
This week the Foreign Secretary also wrote about his historic visit to Burma on 5-6 January. He welcomed the release of political prisoners in the country and the ceasefire between the Burmese government and Karen National Union.
On Monday, embassies around the world marked 200 days to go until the London 2012 Olympic and Paralympic Games, with activities taking place in USA, Hong Kong, Italy, Doha and elsewhere. On Tuesday Foreign Secretary William Hague and Lord Coe launched 'Game Changer: Britain Prepares' - a new film commissioned by the FCO that tells the amazing story of people across the UK preparing for the Games. Commenting on the Foreign Secretary's Facebook page, Lord Coe talked about the final preparations taking place and the partnerships that have been formed to deliver the Games.
Earlier this week the Foreign Secretary expressed disappointment at Iran's decision to start enrichment operations at its Qom facility. Speaking at Bar-Ilan University in Ramat Gan, the Minister for the Middle East Alistair Burt emphasised the importance of standing together to prevent Iran acquiring a nuclear weapons capability. He also met Israeli Deputy Foreign Minister Danny Ayalon to discuss developments in the region.
Also this week, Foreign Office Minister Jeremy Browne welcomed the continued UK and China dialogue on human rights, and the Foreign Secretary also gave a statement to the House of Commons on the Falkland Islands. Minister for the Commonwealth Lord Howell outlines key challenges for the Commonwealth in 2012 and UK priorities following the 2011 Heads of Government meeting in Perth.
Published 13 January 2012