This week at the Foreign Office
A look at the work of the Foreign Office and its embassies overseas this week.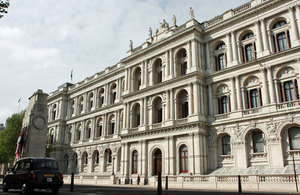 The Foreign Secretary started the week in Bonn, where he attended the International Conference on Afghanistan. The Conference established a blueprint for the international community's long term engagement with Afghanistan beyond 2014. Speaking after the conference the Foreign Secretary said:
"We have a clear framework for cooperation between the Afghan Government and international community. We look forward to building on the commitments agreed today to see the emergence of a stable, secure and prosperous Afghanistan."
The Foreign Secretary welcomed Indonesia's ratification of the Comprehensive Nuclear Test Ban Treaty and called on the remaining eight states to ratify.
Minister for the Middle East Alistair Burt visited Tripoli on a three day visit- the first UK Minister to visit since the formation of a new Libyan Government. He met Libyan Foreign and Interior Ministers and discussed with them a new partnership for the UK and Libya that will build on the UK's solidarity with the Libyan people over the past ten months.
He also visited the notorious Abu Saleem prison where more than 1,200 political prisoners are reported to have been summarily executed by the Qadhafi regime in 1996.
Condemning the Israeli Ministry of Defence decision to legalise the construction of Shilo building units, Minister for the Middle East Alistair Burt said that construction is obstructive to efforts to bring a lasting peace to the Middle East conflict and threatens the future of a two-state solution.
Today Prime Minister David Cameron rejected an EU treaty that he said was "not in Britain's interests".
While in Indonesia Foreign Office Minister Jeremy Browne gave a speech to the Bali Democracy Forum which came at a "seminal time for democracy:
"I hope that we can use this poignant time of change to empower reformers to push for change that guarantees their rights, freedoms and dignity in ways that respect and fit with their own cultures, experiences and desires."
Many Brits are planning a winter sports holiday over the coming months. New research shows that one in five travellers are not taking out insurance, and the costs of an accident on the slopes can be huge.
Saturday is International Day of Human Rights. Foreign Secretary William Hague paid tribute to the courage and dedication of human rights activists campaigning for peaceful social and political change via the internet on social networking sites around the world.
Published 9 December 2011