This week at the Foreign Office
A look at the work of the Foreign Office and its embassies overseas this week.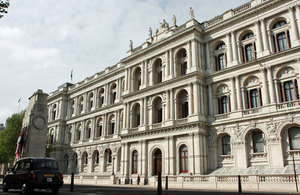 The Foreign Secretary started the week in Brussels where EU Foreign Ministers agreed new sanctions on the Syrian regime. Over 3,500 people have been killed since March in Syria. Speaking after the meeting the Foreign Secretary said "as long as the violence continues, we will continue to press the Syrian regime to bring an end to this killing".
In London on Wednesday he delivered a speech on the role of secret intelligence in foreign policy.
In a speech at the Lord Mayor's Banquet, Prime Minister David Cameron announced that the UK will host a major conference on Somalia to pull together international effort.
Minister for the Middle East Alistair Burt condemned the killing of unarmed civilians, including women and children in Yemen.
On Wednesday he talked of a new, positive bilateral relationship with post-Qadhafi Libya in a speech at the British Council in London.
He also spoke about the UK's role in the Arab Spring in a speech were he highlighted progress and new challenges in Tunisia, Egypt and Libya.
In China, Foreign Office Minister Jeremy Browne met influential figures and supported British business interests. He also bid farewell to Tian Tian and Yangguang, the two pandas about to depart for Edinburgh Zoo where they will be for two years as part of a strong working relationship between the Zoo and its Chinese counterparts.
Foreign Office Minister Henry Bellingham said that the International Criminal Court's swift action on Libya complemented other international efforts and showed the ICC's relevance when he visited the Hague this week.
Over sixty sixth form students from across the UK were brought together in London today to debate current European issues in a Mock EU Council. Students represented EU States and Institutions in a debate on the Arab spring and the economic challenges facing Europe.
The Trafalgar Square Christmas tree started its journey from Oslo today. Students represent EU States and Institutions in a debate on the Arab spring and the economic challenges facing Europe.
Published 18 November 2011