This week at the Foreign Office
A look at the work of the Foreign Office and its embassies overseas this week.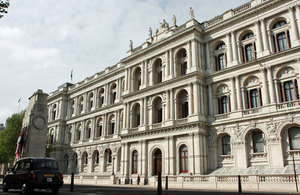 The UK's relations with two key partners in Asia were highlighted this week, when Foreign Secretary William Hague met State Councillor Dai of China, and gave a speech about UK-Pakistan relations.
The third annual UK-China Strategic Dialogue hosted by the Foreign Secretary in London on 26 September was an opportunity for discussion on a range of international issues, and where the UK and China can work together in future.
The Foreign Secretary's speech on the 60th Anniversary of the Pakistan Society highlighted the close ties between Britain and Pakistan over the last six decades.
On Thursday, Foreign Secretary William Hague and Foreign Office Minister Alistair Burt met Syrian human rights activist Catherine al-Talli and opposition member Bassam Ishak on Thursday 29 September. On the same day Minister for the Middle East Alistair Burt issued a statement on the ongoing violence in Syria, calling on President Assad to end brutality against the people of Syria.
Following reports that Iranian Church Leader Pastor Youcef Nadarkhani faces a death sentence after refusing an order to recant his faith, the Foreign Secretary called on Iran to overturn the sentence. He also expressed his concern at sentences handed out by a Special Tribunal in Bahrain, where a group of medics have been sentenced to between 5 and 15 years in prison.
On Tuesday, The Foreign Office launched a consultation on a new strategy for the Overseas Territories, and Foreign Office Minister Henry Bellingham welcomed a new Constitution for Montserrat, describing it as an important step forward.
On Monday, Minister for Trade and Investment Lord Green visited Tripoli to discuss the UK's role in rebuilding Libya, meeting NTC Ministers, Central Bank, the Libyan Businessmen Council and NTC international advisers.
Commonwealth Minister Lord Howell has met representatives of civil society groups to hear their views ahead of the Heads of Government meeting in Perth.
The Foreign Office's Know Before You Go team are at the A Place In The Sun Live show in Birmingham on 30 September to 2 October, offering advice to Britons planning to buy property abroad. The FCO Travel Advice Team also reminded football fans to Be on the Ball when travelling to matches in Europe.
Published 30 September 2011