This week at the Foreign Office
A look at the work of the Foreign Office and its embassies overseas this week.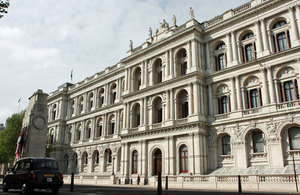 Prime Minister David Cameron and Foreign Secretary William Hague started the week in Russia. The visit was the Prime Minister's first visit to Russia as Prime Minister and comes at a time when the UK seeks to forge a stronger relationship with the country.
On Thursday, they visited Libya with French President Nicolas Sarkozy for discussions with the National Transitional Council and to offer the UK's aid and support.
The Foreign Secretary said that a strong relationship between China and the UK will benefit both nations when he addressed members of the UK-China Leadership Forum on Wednesday.
Foreign Secretary William Hague said that we will not forget those imprisoned in Iran when he gave a speech at an event organised by The Times newspaper, in association with human rights NGOs.
Marking International Day of Democracy the Foreign Secretary said that we should celebrate the extraordinary sacrifice people have made across the world to advance democratic values.
Minister for the Commonwealth Lord Howell recorded a video while in France on how the Commonwealth and the Francophonie can work together.
Minister for the Middle East Alistair Burt said he was extremely concerned about the situation in Yemen saying that the UK is working with all sides and diplomatic allies to ensure the political crisis is resolved as soon as possible.
On Tuesday Minister for Europe David Lidington was joined by 7 EU Ministers in arguing against the budget rise proposed by the EU Commission for 2014-2020.
Foreign Office Minister Jeremy Browne visited New Zealand, where he announced closer ties with the country, agreeing to work together on science and innovation. He also visited the quake torn city of Christchurch and spoke about the London 2012 Olympics in Wellington's Olympic Museum.
American actor and director Henry Winkler was given an Honorary Order of the British Empire (OBE) in recognition of his services to children with dyslexia and special educational needs.
This weekend the Foreign Office in King Charles Street London opens its doors to the public as part of the Open House London architectural festival. Foreign Secretary William Hague recorded a video message in advance of the event to welcome those who planned to look around the historic building.
Next week the Foreign Secretary and Prime Minister will attend the United Nations General Assembly. Priorities for the UK include the Middle East Peace Process, the Arab Spring, Somalia, Commonwealth issues, trade and the emerging powers.
Published 16 September 2011