This week at the Foreign Office
A look at the work of the Foreign Office and its embassies overseas this week.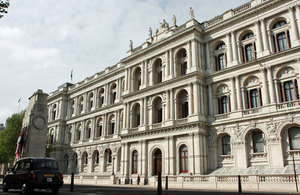 This week the Foreign Secretary talked about strengthening the Foreign Office in his speech on the 'best diplomatic service in the world'.
On Wednesday the Foreign Secretary published a report on progress in Afghanistan during July and August.
He also had meetings with the Nigerian Foreign Minister and the Moldovan Deputy Prime Minister.
You can now see updates from the Foreign Secretary on his Facebook page.
Foreign Office Minister Jeremy Browne visited Australia and New Zealand this week to promote closer ties with the two countries and boost British business.
Updating Parliament on the situation in Sudan and South Sudan, Minister for Africa Henry Bellingham said that the UK will remain committed to supporting the development of two economically viable and peaceful states.
Minister for Europe David Lidington said that the UK finds the EU Commission budget proposals "unacceptable" as EU Ministers plan to discuss the issue in Brussels on 12 September.
Foreign Office Minister Lord Howell explored commercial opportunities for British business in Iraq when he met Iraqi Deputy Prime Minister H.E Rowsh Nuri Shaways
Tickets to the London 2012 Paralympic Games went on sale today. To coincide with this wheelchair basketball player Ade Adepitan presents a film looking at the birth of the Paralympic movement in the UK and the preparations for the Games in 2012:
In the latest episode of the History podcast series, British Ambassador to the Czech Republic, Sian MacLeod, remembers her first posting as a young diplomat to Moscow during the 1991 coup and collapse of the Soviet Union.
Published 9 September 2011