This week at the Foreign Office
A look at the work of the Foreign Office and its embassies overseas this week.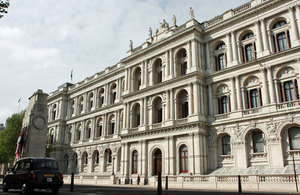 More than 60 countries came together in Paris to discuss the future of Libya with the National Transitional Council this week. Prime Minister David Cameron and French President Nicolas Sarkozy co-chaired the international conference.
Foreign Secretary William Hague discussed Libya with the public via Twitter and recorded a video blog describing the conference as an historic step for Libya:
After the conference the Foreign Secretary travelled to Poland for a meeting of EU Foreign Ministers, where Libya and Syria are high on the agenda, along with the Middle East Peace Process.
Minister for the Commonwealth Lord Howell visited India and gave a lecture to the Indian Council of World Affairs on the Commonwealth's role in world affairs.
On Monday the Foreign Secretary sent his best wishes to Muslims in Britain and around the world to mark the end of the month of Ramadan.
The Rugby World Cup kicks off in New Zealand next week. The Foreign Office warned fans to take extra care on the roads as statistics show New Zealand has more than twice the number of road crash fatalities per 100,000 people as the UK.
British Ambassador to South Korea Martin Uden discussed how drug smuggling isn't worth the risk in his latest blog post.
On Monday the last British passport to be printed in Hong Kong by the passport team was handed over as future passports will be printed in the UK.
Published 2 September 2011