This week at the Foreign Office
A look at the work of the Foreign Office and its embassies overseas this week.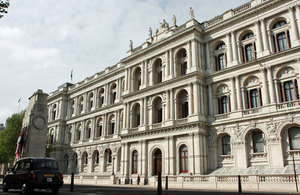 This week Foreign Secretary William Hague condemned the continuing violence in Syria saying the "brutality exposes the regime's claims to be committed to a reform process as an utter sham".
On Monday the Foreign Secretary marked the anniversary of the student uprising in Burma describing it as an "opportunity to reflect on the sacrifices" which continue to be made by those who have strived for peace in Burma.
Condemning the announcement of the expansion of illegal Israeli settlements in East Jerusalem the Foreign Secretary said: "At a time when all parties should be striving to return to talks, this announcement undermines trust and - by illegally changing the situation on the ground - threatens the two state solution for which we are working hard. It is deeply disappointing."
It was 20 years ago on Monday that British journalist John McCarthy was released after more than five years as a hostage in Lebanon. Based in the British Embassy in Syria at the time, Mark Watchorn talked about the release in a Foreign Office podcast.
As Iranians commemorated Journalist's Day, Minister for the Middle East Alistair Burt talked about the ongoing oppression of civil liberties in Iran.
Minister for Africa Henry Bellingham expressed disappointment after Sudanese President Bashir visited Chad in defiance of an International Criminal Court arrest warrant.
On Tuesday the Foreign Office announced a 12 month crisis text messaging trial with Vodafone UK. Texts will be sent out to customers who are in a country where there has been a major crisis - such as a natural disaster or civil unrest.
Video, Google Earth and an infographic were used by the Foreign Office this week to represent the data published on the number of Brits who get into trouble abroad.
Helping holidaymakers, meeting local tour operators and discussing local concerns with expats: all in a day's work for British Vice Consul Rania Kossiori.
British Ambassador to the Republic of Korea Martin Uden said that a "global deal must be the aim on climate change" when he spoke at the UN Model Conference on Climate Change at Korea.
The British Embassy in Peru looked back to the 1948 London Olympics in an album of pictures collected by Peruvian athlete Enrique Mendizabal who took part.
The British Embassy in Bolivia created a video with tips to avoid being a victim of crime by using bogus taxis.
Published 12 August 2011