This week at the Foreign Office
A look at the work of the Foreign Office and its embassies overseas this week.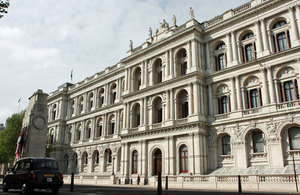 Violence in Syria continued as troops renewed the shelling of Hama and other cities across Syria in an attempt to subdue the peaceful protests. Foreign Secretary William Hague welcomed further EU sanctions against the Assad regime, and a UN Presidential statement calling for an immediate end to all violence.
Minister for the Middle East Alistair Burt urged restraint after an Israeli Defence Forces operation in Qalandiya refugee camp killed two Palestinians and injured a number of Israeli soldiers.
The Foreign Office published it's annual British Behaviour Abroad report on Thursday which showed that despite a 10% decrease in the number of Britons arrested overseas last year, Britons are still falling foul of the law when abroad.
Drug arrests continue to be a significant problem, prompting the Foreign Office to produce a hard-hitting film to warn against the temptations of smuggling drugs:
The month of Ramadan started this week. The Foreign Office created a page on facebook called " Living Ramadan" to share stories and content from our embassies around the world.
Published 5 August 2011